50 Best Intelligent Woman Quotes & Captions
by Sharon E. Moore
Women truly deserve to feel empowered, confident, and flawless every time. For this reason, we have listed the best and highly powerful intelligent women quotes that will be your next best Instagram quotes. Our aim is to share the love as well as empower many women along their way.
No matter whether you are trying to spread joy and happiness or want an amazing quote that will inspire yourself, we keep you covered with these intelligent woman quotes. Here are the top intelligent women captions that you will enjoy reading till the end!
Best Intelligent Woman Quotes & Captions
I would like to be known as an intelligent woman, a courageous woman, a loving woman, a woman who teaches by being.
Her soul is fierce. Her heart is brave. Her mind is strong.
A storm was coming, but that's not what she felt. It was adventure on the wind and it shivered down her spine.
You're a diamond dear – they can't break you.
Never apologize for being a powerful woman.
An intelligent woman has millions of born enemies… all the stupid men.
Be fearless in the pursuit of what sets your soul on fire.
If you want something said, ask a man; if you want something done, ask a woman.
A strong woman knows how to keep her life in line. With tears in her eyes, she still manages to say, Nah, I'm fine.
The secret of getting ahead is getting started.
Girls are capable of doing everything men are capable of doing. Sometimes they have more imagination than men.
Whenever you see a successful woman, look out for three men who are going out of their way to try to block her.
Many beautiful women have been made happy by their own beauty, but no intelligent woman has ever been made happy by her own intelligence.
If there's one thing I'm willing to bet on, it's myself.
The thing women have yet to learn is nobody gives you power. You just take it.
A strong woman looks a challenge in the eye and gives it a wink.
The world needs strong women. Women who will lift and build others, who will love and be loved, women who live bravely, both tender and fierce, women of indomitable will.
We can do no great things, only small things with great love.
The success of every woman should be the inspiration to another. We should raise each other up.
If they don't give you a seat at the table, bring a folding chair.
Some women choose to follow men, and some choose to follow their dreams. If you're wondering which way to go, remember that your career will never wake up and tell you that it doesn't love you anymore.
I like intelligent women. When you go out, it shouldn't be a staring contest.
Rise above the storm and you will find the sunshine.
Don't ever let anyone dull your sparkle. I always believed that when you follow your heart or your gut you can never lose because settling is the worst feeling in the world.
Alone, by herself she built the kingdom that she wanted.
A woman is the full circle. Within her is the power to create, nurture and transform.
Success is getting what you want; happiness is wanting what you get.
My mother told me to be a lady. And for her, that meant be your own person, be independent.
It's possible to climb to the top without stomping on other people.
It's a rare man who can stand being around an intelligent woman, let alone married to her.
Her intuition was her favorite superpower.
There is no limit to what we as women can accomplish.
And you were just like the moon, so lonely, so full of imperfections. But just like the moon, you shined in times of darkness.
A strong woman is a woman determined to do something others are determined not be done.
A woman is like a tea bag — you never know how strong she is until she gets in hot water.
Tremendous amounts of talent are being lost to our society just because that talent wears a skirt.
Doubt is a killer. You just have to know who you are and what you stand for.
There is a nonsense about intelligent women not being beautiful.
Sometimes you just have to remind them who they're dealing with.
A strong woman is one who continues to persevere, no matter what life may through her way.
Damaged women are the most dangerous kind, because they already know they can survive.
I figure, if a girl wants to be a legend, she should go ahead and be one.
Be the type of girl that climbs the ladder wrong by wrong.
I raise up my voice—not so I can shout but so that those without a voice can be heard… We cannot succeed when half of us are held back.
Life shrinks or expands in proportion to one's courage.
Why do men like intelligent women? Because opposites attract.
There is no limit to what we as women can accomplish.
One of the lessons that I grew up with was to always stay true to yourself and never let what somebody else says distract you from your goals.
Do not tame the wolf inside you just because you've met someone who doesn't have the courage to handle you.
Be strong enough to stand alone, smart enough to know when you need help, and brave enough to ask for it.
These were some best intelligent women quotes and captions. Comment down below if you know about any other good quotes.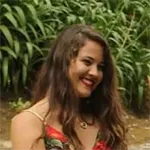 About Sharon E. Moore
Sharon E. Moore is an inspirational writer and creator of captions for Instagram. She loves to write about motivation, self-improvement, and success. Her goal is to help others achieve their dreams by providing them with the inspiration they need to keep going.
Leave a Reply